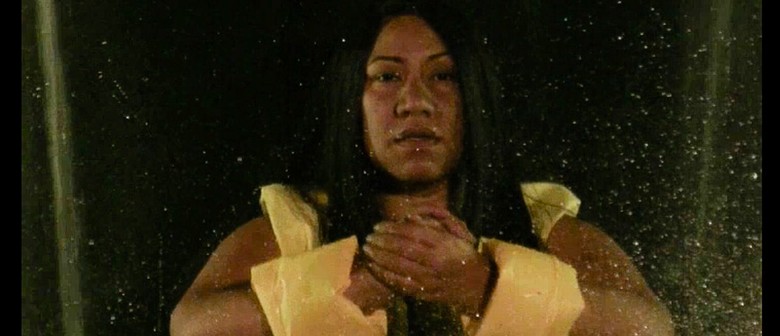 Sorry, this event's been and gone
Latai Taumoepeau in Conversation with Ane Tonga
Following the live performance of Repatriate (2015 - ) on Saturday 7 May, come along for the in conversation event between Latai Taumoepeau  and Curator for the new exhibition, Declaration: A Pacific Feminist Agenda, Ane Tonga.
Repatriate emphasises the economic disparity between developing and developed countries regarding crisis, and relocation in the face of human induced climate change. Using Tongan metaphor, Taumoepeau performs an urgent poetic distress call using her body, repurposed props and modest materials. 
Latai Taumoepeau (b.1972) lives and works in Gadigal Ngurra / Sydney, Australia. In Tongan culture, 'Punake' is a term used to describe artists who compose poetry and songs and choreograph them for performance. The word comes from puna (to fly) and hake (on high). Latai Taumoepeau is a contemporary Punake — a body-centred performance artist whose powerful artistic practice tells the stories of her homelands, the Island Kingdom of Tonga, and her birthplace of the Eora Nation, Sydney. Working in durational performance and documenting it through photographs, she addresses issues of race, class and the female body. In her recent practice, Taumoepeau explores the effects of climate change in the Pacific, probing existing power structures and the looming possibility of dispossession that many Pacific Island communities face.  
Recent projects include The Last Resort in Nirin / Sydney Biennial 2020, Dark Continent in the Asia Pacific Triennial 2019 and the annual artist-led project Refuge which brings together artists, emergency experts, scientists and communities to see how we as a society can prepare for the consequences of disasters and the impacts of climate change.  
Special thanks to MFAT for their support of this project. 
This event will proceed at Red and Orange with:   
1m distancing   
Facemasks mandatory   
See our website for full terms and conditions of entry